A-1 Carpet Cleaners
The FIRE DAMAGE Restoration Experts in Charlottesville , VA
Call us 24/7 434-296-0667
Our response team will be at your door in 100 minutes or less.

We are the experts on
Fire Damage Restoration

Smoke Damage Cleaning & Restoration

Soot Damage Cleaning & Restoration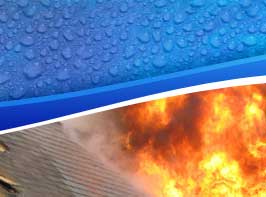 Fires may start small but under the right conditions a fire can spread out of control in a matter of minutes and become catastrophic and tragic.
If you discover a fire, evaluate the situation quickly. With a small controlled fire, you may be able to put it out with your extinguisher if you know how to handle one. But never underestimate the danger from fire. If you're not sure you can manage it, let the Fire Department do the work.
Some very toxic chemicals may be produced as a result of breakdown reactions from the various parts of construction materials, solvents, glues and other items in the structure.
Our state-of-the-art technology can detect and neutralize these chemicals as well as contain hazardous materials. A fire loss is devastating and complex because of the unique behavior of smoke. It is important to have trained technicians at the loss location. A-1 Carpet Cleaners knows how to handle damage in Charlottesville , VA from smoke, soot and the other results of fire!
A-1 Carpet Cleaners will test for toxic gases and materials and remove smoke odor and soot from the indoor environment as well as valuable electronics, machinery, books, documents, and artwork.
Hot smoke migrates to cooler areas and upper levels of a structure.
Smoke flows through plumbing systems, using holes around pipes to go from floor to floor.
Depending on the type of smoke, it will greatly affect the restoration process.
A-1 Carpet Cleaners steps in, takes charge, addresses your concerns and tests the smoke to see which of the following types of fire occurred.
§ Wet Smoke - Low heat, smoldering, pungent odor, sticky, smeary. Smoke webs are more difficult to clean.
§ Dry Smoke - Fast burning at high temperatures.
§ Protein - Virtually invisible, discolors paints and varnishes. Extreme pungent odor.
§ Fuel Oil Soot - Furnace puff backs cause fuel oil soot.
§ Other Types - Tear gas, fingerprint powder, and fire extinguisher residue are other types.
After A-1 Carpet Cleaners knows the type of smoke, the next step in evaluating the damage to the property is pretesting to determine:
What can be restored and what must be

replaced

The

most effective

cleaning method
Condition of the property before the damage occurred
The

full extent

of the loss
Our Services
A-1 Carpet Cleaners-
Cleans soot from electronics, machinery, and other valuable property

Detects and removes toxic chemicals.

Detects and neutralizes noxious gases.

Restore valuable property back to its original condition, or sometimes even better!
Because fires are the second leading cause of accidental death around the home you should know who to call if you ever have a fire.
Because of the unique behavior of smoke, fire restoration may be complex. It is important to have an experienced restoration team on your side. Fast treatment will help reduce smoke and soot health hazards.
Remember- Immediate action is important. Take action to minimize health hazards and reduce fire related damage to your home or business.
Put safety first: fire may cause damage to the structure, including short circuits in the electrical system while producing chemical hazards. Learn the

safety rules

to protect yourself and avoid injury or infection;

Secure your property

and personal belongings from further damage;

Complete the Get Help Now page and a A-1 Carpet Cleaners expert will contact you for an

accurate damage assessment and a free quote.

A-1 Carpet Cleaners is the most comprehensive resource for fire damage services, assessment,

and recovery in Charlottesville , VA
CALL NOW FOR PROFESSIONAL SERVICES. 434-296-0667